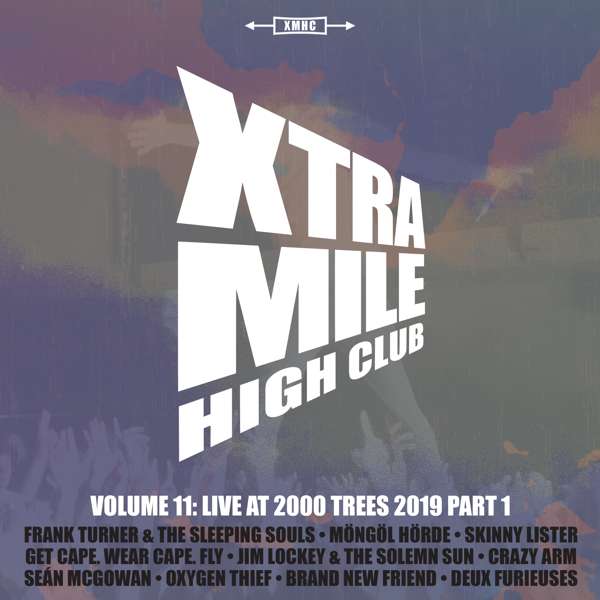 Xtra Mile High Club Vol 11: Live At 2000 Trees (Part 1)
Off The Rails (Live at 2000 Trees)
38 Minutes (Live at 2000 Trees)
Blistering Blue Barnacles (Live at 2000 Trees)
Broken By The Wheel (Live at 2000 Trees)
Let Them Burn (Live at 2000 Trees)
Home-Hospitals (Live at 2000 Trees)
Find The Time (Live at 2000 Trees)
Mediocre At Best (Live at 2000 Trees)MP3
I Used To Be Elephants (Live at 2000 Trees)
I Still Believe (Live at 2000 Trees)
Xtra Mile High Club Vol 11: Live At 2000 Trees - Part 1 Featuring live songs from all the acts that played our Xtra Mile Axiom Stage take over at 2000 Trees Festival in 2019 - as well as a song from Frank Turner & The Sleeping Souls' headline set from the Main Stage.
Released 13th December 2019.
Purchase our XMHC Part 1 and be in with a chance of winning a poster signed by all the acts at Trees. A winner will be chosen at random in February 2019.
Tracklisting: 1. Sean McGowan 'Off The Rails (Live At 2000 Trees)' 2. Skinny Lister '38 Minutes (Live At 2000 Trees)' 3. Mongol Horde 'Blistering Blue Barnacles (Live At 2000 Trees)' 4. Crazy Arm 'Broken By The Wheel (Live at 2000 Trees)' 5. Deux Furieuses 'Let Them Burn (Live at 2000 Trees)' 6. Jim Lockey And The Solemn Sun 'Home / Hospitals (Live At 2000 Trees)' 7. Get Cape. Wear Cape, Fly 'Find The Time (Live at 2000 Trees)' 8. Brand New Friend 'Medicore At Best (Live at 2000 Trees)' 9. Oxygen Thief 'I Used To Be Elephants (Live At 2000 Trees)' 10. Frank Turner 'I Still Believe (Live at 2000 Trees)'